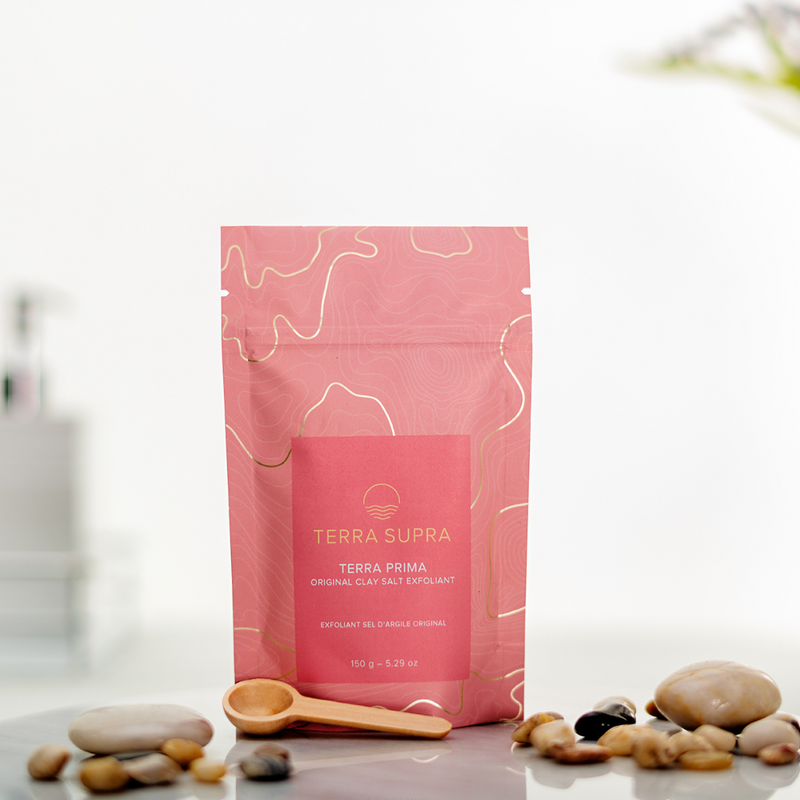 PINK CLAY SALT SCRUB
Original Clay Salt Exfoliant
℮ 160 g
Sale price

$19.00

Regular price

($23.00 value)
EXFOLIATE + RENEW
Our Pink Clay Salt Scrub is the 100% natural solution for women suffering from blemishes, acne, eczema, keratosis and rosacea. 

It gently exfoliates & minimizes your pores in only 20 seconds per day, leaving your skin renewed, smoothed and radiant.
Formulated with soft clay salts from Canada, this scrub is highly effective without damaging your skin.
Scent: Neutral
This item ships the next business day for orders placed before 12PM CST.
Love the feeling!
Leaves my skin feeling so nice! Very gentle.
Gentle salts
Great product and much gentler at removing scales and dry skin than some of the harsher methods. Abrasion works but the salts do as good a job but leaving skin feeling softer and not abraded is a much better option from my perspective. Terra Prima Pink Clay Salt has benefits far beyond, just exfoliation!
If you prefer unscented ones..
This one has no scent , there is a light smell of the clay , it has that earthy smell. The effect is the same as the other ones, amazing exfoliant . Soft, smooth just beautiful radiant skin .
I'm in love...
...with these products from @terrasuprasc
Can't say thank YOU enough @laureen6682 for your great reviews which helps me have the right decision to purchase them. I just tried the original clay salt exfoliant and it really makes my skin smoother, softer and relaxed. The flaxseed oil is easily absorbed to my skin without greasy feeling. I don't have any fine lines yet but the products promise to diminish it too so it's a huge bonus for long term use. They are also thoughtful to send me a spoon for easy handling. I think @laureen6682 has the best reviews (and the best pics 💐) for these products so you can check out her page for more details. Wish you all a lucky Lunar New Year, sweet Valentine's Day and happy Family Day! 🥂💐🎉 #terrasupra #facecare #bodycare #exfoliate #flaxseed
Pink Clay + Oil = Dewy Soft Skin
Touchable skin invites health into your life.
FOR YOUR FACE
FOR YOUR HANDS
FOR YOUR BODY
FOR YOUR FEET