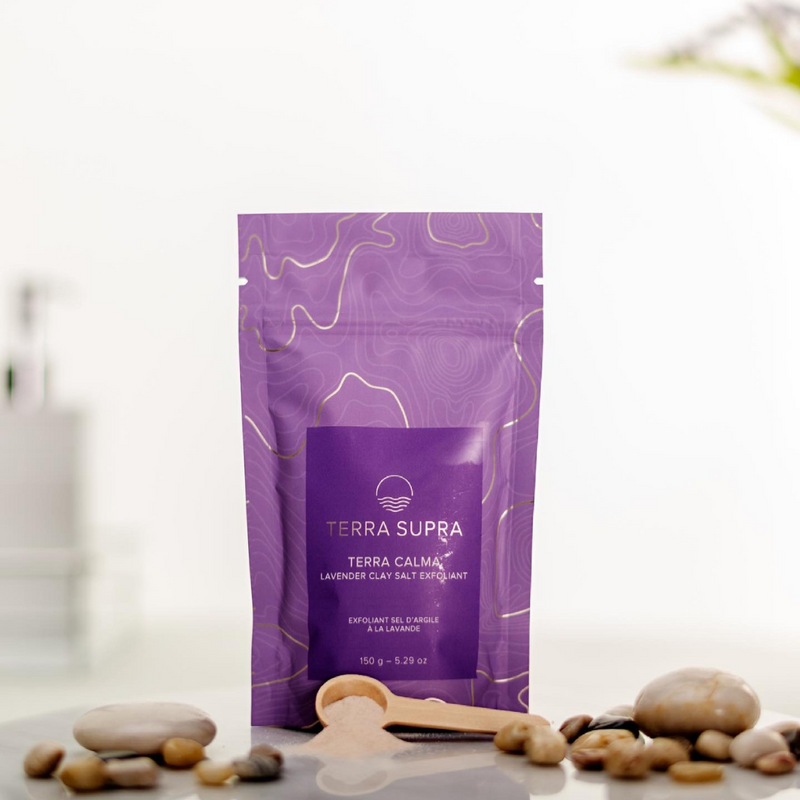 LAVENDER CLAY SALT SCRUB
Lavender Clay Salt Exfoliant
℮ 160 g
Sale price

$19.00

Regular price

($23.00 value)
EXFOLIATE + RENEW + UNWIND
Our Lavender Clay Salt Scrub is the 100% natural solution for women suffering from blemishes, acne, eczema, keratosis and rosacea. 
It gently exfoliates & minimizes your pores in only 20 seconds per day, leaving your skin renewed, smoothed and radiant.
Formulated with soft clay salts from Canada and organic lavender from Belgium, this gentle scrub is highly effective and helps you unwind simultaneously.
Scent: Sweet-smelling lavender
Benefits of organic lavender:
- Calming effect
- Antibacterial
- Antifungal
This item ships the next business day for orders placed before 12PM CST.
Everyone needs this!
This is the best facial scrub I've tried. It is gentle and left my skin noticeably smoother after the first use. I use the Calma flax seed oil after this product and it leaves my skin so soft.
Just right!
I have tried several different face scrubs, and many are just too abrasive and harsh on my skin. This one is the Goldilocks scrub - it's just right! Thank you
So calming and nice soft skin
I love the light lavender scent on this in the shower. It's just so calming, relaxing and it gives me nice soft skin. It's so amazing how soft the skin is after skin is after using this. Must try.
Definitely A Skin Staple!
I love this stuff! I have never tried an exfoliating clay salt but I have been using this stuff for a while now and it leaves my skin feeling SO soft!! It even helps prevent ingrown hairs before shaving my legs which is really nice. I also love the lavender smell it's so calming!
Must try!
I have tried the original clay salt exfoliant and it makes my skin smoother, softer and relaxed. The flaxseed oil is easily absorbed without greasy. I don't have any fine lines yet but the products promise to disminish it so it is a huge bonus for long term use. It is thoughtful to provide a spoon which helps me a lot in product distribution. They also have the best customer service!
Pink Clay + Oil = Dewy Soft Skin
Touchable skin invites health into your life.
FOR YOUR FACE
FOR YOUR HANDS
FOR YOUR BODY
FOR YOUR FEET