Terra Supra Skin Care Pairing Powerhouse – Terra Vida and Ama Pura
by Corinne Cadre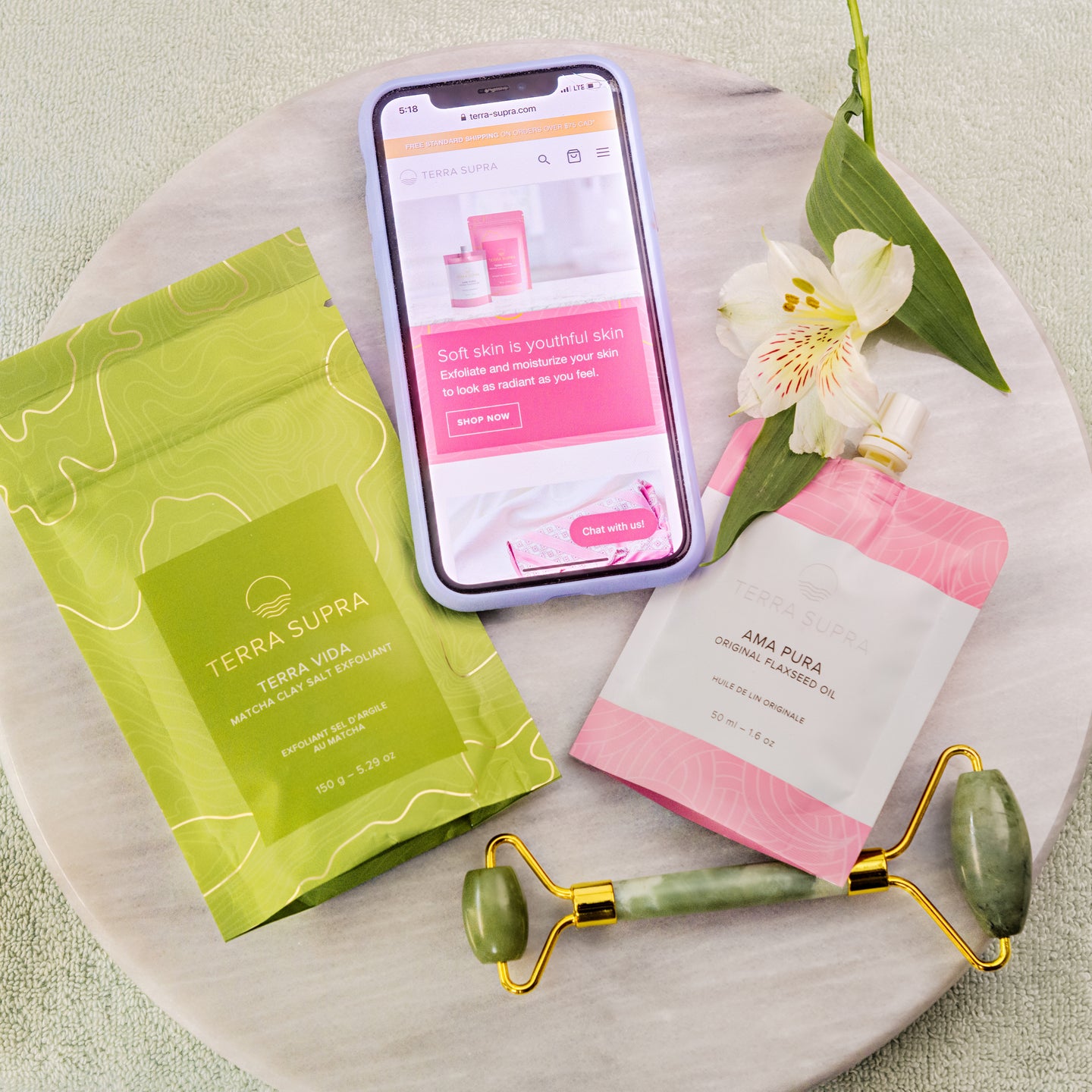 Pair Terra Vida clay salt exfoliant and Ama Pura body serum with organic flaxseed oil for a powerful skincare duo. Terra Vida clay salt gently exfoliates dead skin cells to give skin a fresh appearance, and this exfoliation facilitates the absorption of other skin care products such as our Ama Pura body serum. Its five simple ingredients have many benefits for both the face and body. Sodium helps restore skin's protective barrier helping hold hydration. Magnesium supports the synthesis of collagen and protects skin from harmful free radical damage that can ultimately lead to wrinkling and skin damage. Calcium works with the epidermis to produce sebum, a natural, skin-coating substance that helps skin maintain its natural moisture. Potassium:  although potassium is not absorbed through your skin, it enhances skin's pH, moisture, and texture. Infused with high quality Japanese organic matcha powder (camellia sinensis), Terra Vida clay salt not only gently exfoliates and smooths dry, tired skin, but also benefits skin with its antioxidant, anti-inflammatory, and antimicrobial properties. Matcha's powerful antioxidant molecules fight free radicals, which can cause cellular damage. These antioxidants promote smoother more supple skin due to their ability to rejuvenate skin cells and support skin structure. Matcha's anti-inflammatory properties, polyphenols, can reduce inflammation, skin irritation, and redness. If you have acne prone skin, Terra Vida's antimicrobial properties, in particular epigallocatechin-3-gallate, help reduce sebum secretion and reduce bacterial growth that causes acne.
Post-exfoliation, our beautiful golden Ama Pura body serum with organic flaxseed oil is the perfect moisturizer for dry or very dry skin. Ama Pura is an occlusive moisturizer.  Occlusives provide a thick, protective barrier to prevent water loss. This barrier between the skin and the air keeps water sealed inside skin, and prevents irritants, allergens, and other harmful particles from being able to enter the skin. Packed with Omega-3 fatty acids, lignans, and antioxidants, Ama Pura oil is a powerful ally in the fight against aging! Its powerful antioxidants protect the skin from free radicals and UV rays. Its fatty acid content makes it a potent anti-inflammatory and beneficial for chronic skin conditions, such as rosacea, dermatitis, eczema, or psoriasis. These fatty acids also help balance out the skin's own oils, and reduce inflammation, to help the skin repair. These refreshed skin cells make the skin firmer, more elastic and youthful.
Terra Vida and Ama Pura – a natural skincare powerhouse!
---