Terra Supra Skin Care - Not Just a Pretty Face!
by Corinne Cadre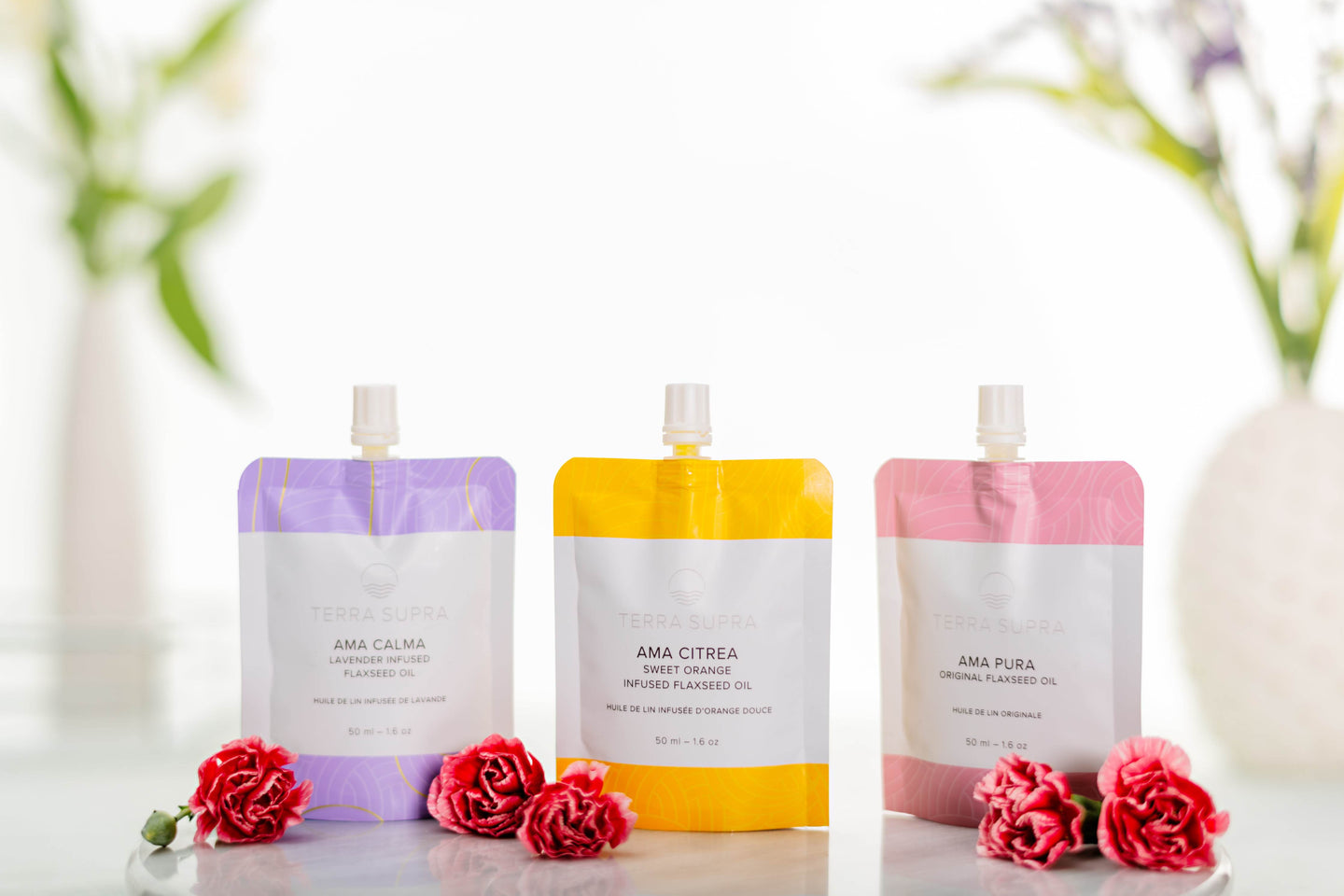 One of the most frequent compliments we receive is for our packaging, so if you are one of those people, thank you!  Our greatest pride, however, is that we are not just a pretty face. From inception, a great deal of thought has gone into every aspect of our company, from our company and product names, to our logos, to our packaging, to our contents.
Early on we had many brainstorming sessions about a company name and I agonized (and woke many nights) over both this and the names for each of our products. Because our clay salts come from an ancient inland sea, and historically flaxseed is one of the first cultivated crops, I wanted our name to honour this history and the bounty of the earth.  Thus, the use of the Latin words, Terra, earth, and Supra, meaning above or, our preferred connotation, superior, for our company. We like the connotation "superior earth" because our clay salt exfoliants are superlative – no other company has a mechanical exfoliant of our quality. All our exfoliant names use Terra with Latin terms, and our flaxseed oils use Ama, which is 'flax' in Japanese, with Latin terms. We chose to infuse two of our exfoliants, one with organic lavender powder and one with matcha powder and two of our oils, one with organic lavender essential oil and one with organic sweet orange essential oil.   These additions have amazing anti-oxidant and anxiolytic properties and their names, Calma, Vida, and Citrea represent these.  
We worked with an incredible branding and graphic design team, Zap Creative, in Saskatoon.  We wanted our packaging to be a sensory experience from first touch, thus the buttery soft texture of the outside of the packages, and the beautiful, muted colours reflect the equally beautiful contents.  Hannah Wheeler at Zap gave us the idea to use touch as a focus of our branding and highlight the importance of touch in our lives – it is the only sense we cannot live without.  We want our products to transport people back to that "first soft, touch." The circular logo/wave design Hannah created honours the earth and the ancient sea, and the second logo she designed includes our commitment to natural wellness and the location coordinates of where we grew up. If you look closely at the background on our salt packages, a topographical map threaded through with gold honours the earth from which our salts come.  Our oil packaging has a stylized Japanese wave design also threaded with gold to honour the prairies of Saskatchewan, the source of our flaxseed oil.  
Because we are proudly Canadian, we have made every effort to support other Canadian businesses.  Digitally printed, our clay salt re-sealable pouches from ePac Flexible Packaging in Vancouver are environmentally friendly.  Procured overseas, our oil packaging is also re-sealable with minimal waste, but we hope to find a Canadian company for this in the future. Our extraordinary clay salts and oils are from Saskatchewan, and our organic lavender powder and essential oils are from Ontario.  As my brother says, we do not grow oranges in Canada yet, so we source our organic sweet orange essential oil from Spain. Finally, we lab test our salts at SRC laboratories in Saskatoon, and we proudly follow EU cosmetic standards which are the highest in the world. At Terra Supra, we are not just another pretty face and we hope you love our products as much as we love making them!
---